Ritorno al Futuro – Christmas Special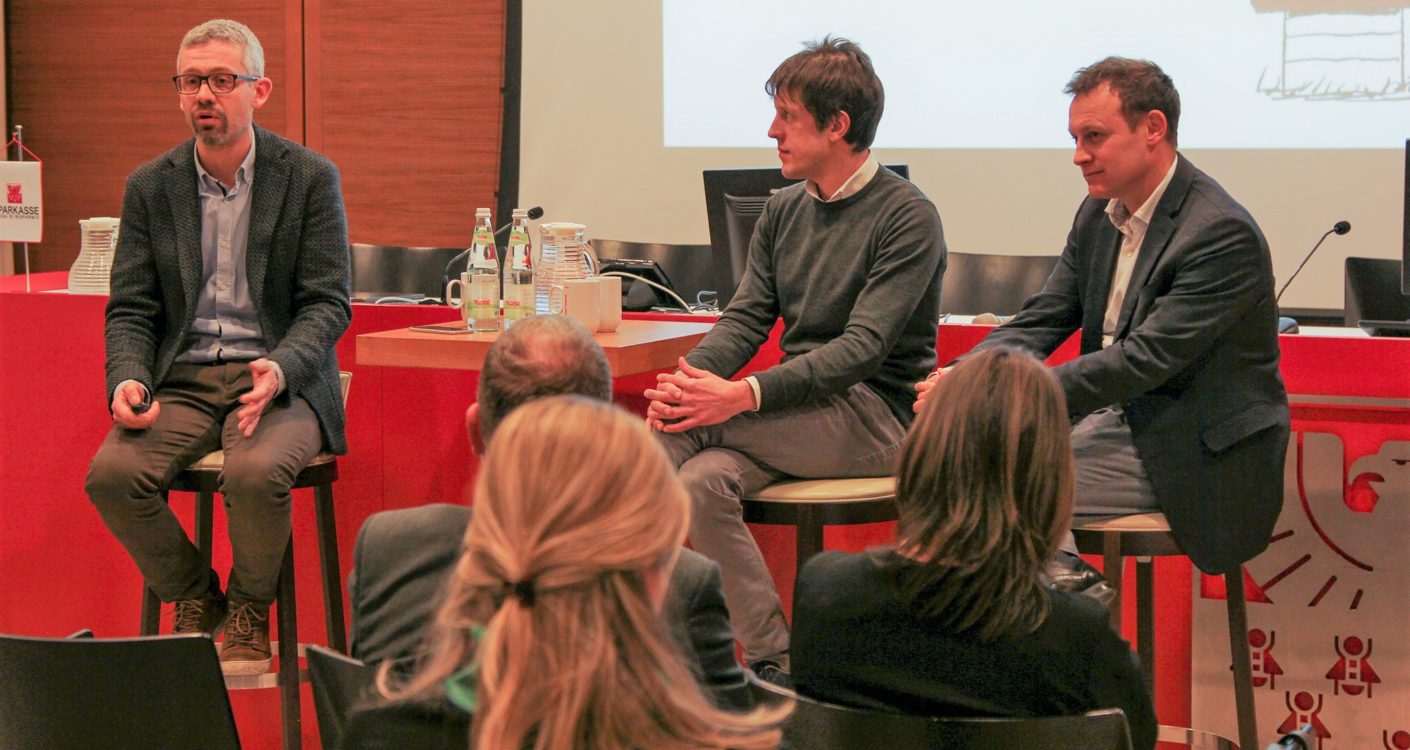 Climate change, as we are reminded by the Swedish environmentalist Greta Thunberg along with the "Fridays for Future" protesters, is already a sad reality. After a sudden slowdown in 2018, renewable energy is back in trend, along with the clean energy program.
"In the unique situation of South Tyrol, which is called the "Green Region" of Italy, we are witnessing cutting-edge changes in the field of renewable energy and energy efficiency. It is characterized by a "green" mindset that influences all local sectors: from the economy, mobility, tourism, to the individuals' perception" explains Sofia Khadiri, Project Manager of LDV20.
The final appointment of "Ritorno al Futuro", organized by Youthmagazine and LDV20, covered the topic of renewable energy. Current and significant, this issue brought together three experts: Professor Marco Baratieri, director of the Master in Energy Engineering at the Free University of Bolzano, Daniele Basso, CEO and co-founder of HBI Group, and Dieter Theiner, head of the "Engineering and Consulting" department of Alperia SPA and project manager of "Alperia Startup Factory".
"The term renewable energy is a bit misleading," Baratieri pointed out. "Renewable does not mean sustainable. In fact, renewable energy comes from a source that regenerates swifter than it can be consumed at". The Unibz lecturer has tremendous experience in the field of energy research, and he collaborates with companies to develop innovative solutions for energy systems. "When we talk about energy, we usually refer to electricity, when in fact, energy is a broader concept and comes in various forms. Electricity is the most common, but there are thermal, nuclear, and chemical energies, just to name a few ". There have been numerous attempts of energy conversion throughout history, but the turning point was the invention of the steam engine in the eighteenth century. That marked the first time when animals weren't used as the primary workforce, instead, thermal energy was converted into mechanical force. From then on the various phases of the industrial revolution led to the knowledge and development of energy sources and technologies that exist today.
Moving from theory to application, startup founder, Daniele Basso, shared his view. Despite his young age, he has a lot of experience in the fields of renewable energy, sustainability, and circular economy. With a degree in engineering and a master's degree under Professor Baratieri, Basso, together with an entrepreneur fascinated by his Ph.D., founded the HBI Group in 2016. The company deals with the treatment of sewage sludge or other organic waste with high moisture content, for example, vegetable waste. "What this technology does is treat organic waste, in agriculture or water purification system, producing a new material that can be used as a source of renewable energy," explains Basso. The organic waste normally poses a disposal problem, but with HBI's technology, it can be used as renewable energy to increase land productivity or as a water purification filter. It is a sustainable technology because it converts limitless waste into energy with zero emissions.
Dieter Theiner, head of the "Engineering and Consulting" department of Alperia SPA and Project manager of "Alperia Startup Factory", says that the topic of renewable energy is very trendy today, but it is not entirely new. "This topic, from a technological point of view, originated in the nineties with the development of wind turbines and the implementation of solar, thermal and photovoltaic energy systems. Humanity has always used renewable sources such as water or wind in mills, now in the form of hydroelectric power, which is our strong point here in South Tyrol "says the engineering manager of Alperia SPA. Through centuries of technological and scientific progress that have allowed us to get to today, these inventions have been put on the back burner since the discovery of fossil fuels such as coal, industrialization, and oil. "In the 1990s, we saw substantial investments leading to technological development, especially in the wind and photovoltaic fields," explains Theiner.
Fossil fuels, claim the three speakers, are destined to meet more barriers. Just considering the damage caused by carbon dioxide CO2 emissions and the impact of the current sustainability trend that is increasingly taking hold in the consciences of many, these alone will push to find long-term solutions, confronting methods of past discoveries.
back to the list