S-Competition winners: it's a tie!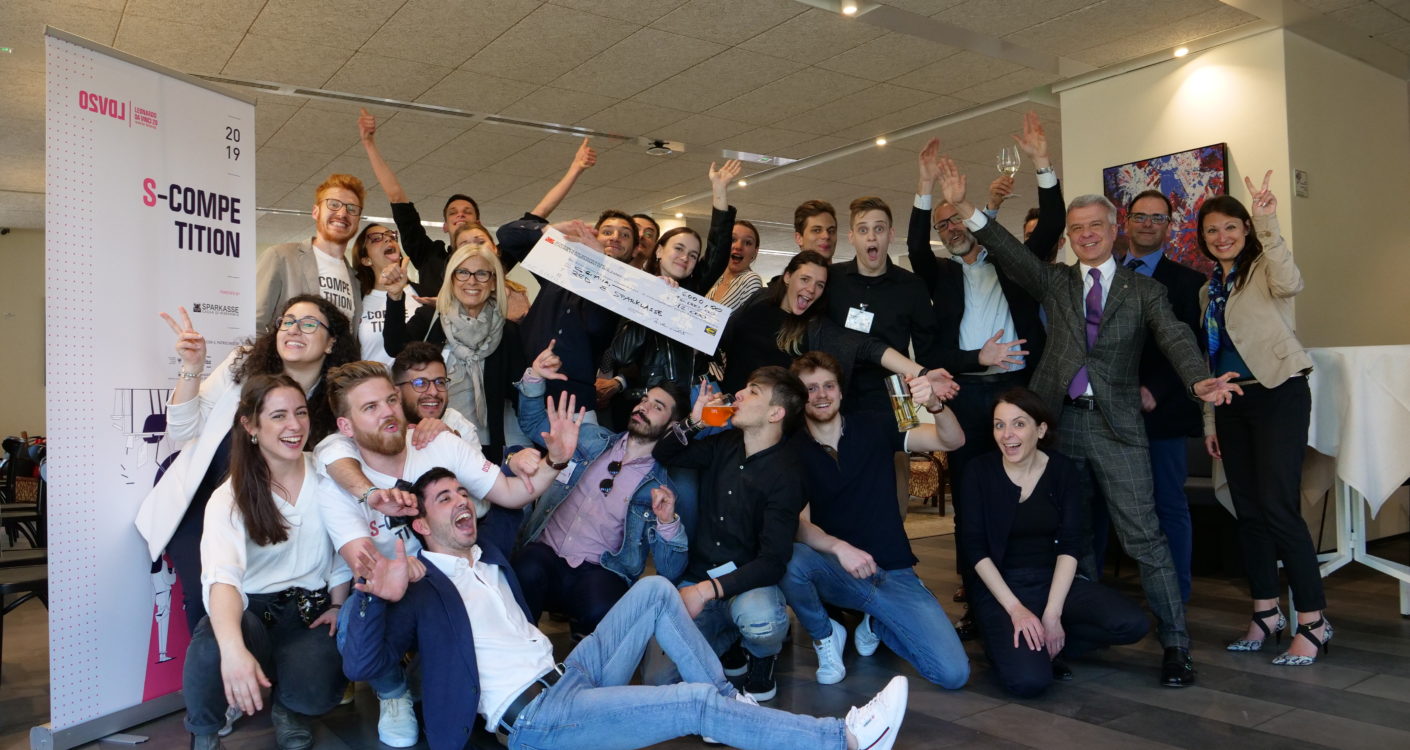 S-Competition, the contest hosted by LDV20 for Sparkasse, has concluded with two teams being named the winners!
The five finalist teams comprised of university students all did amazingly well. Presenting strong innovative projects with interesting takes on developing technological trends everyone answered the needs of the target group "" the "Millennials". The jury, chaired by Harald Oberrauch, CEO of Tyrolean Business Angel, was comprised of Paolo Perego, professor of the University of Bolzano, Diego Ponte, professor of the University of Trento, and Stefano Borgognoni, Head of Management Business Development of Sparkasse. After careful deliberation, the first prize was awarded to two teams whose members were: Gaia Salizzoni, Andrea Fortugno, Matteo Carbone, Serena Sandrini, Valentina Marana, and Demian Zendron.
In addition to the € 2,000 prize to be spent on education, the winners will also have the opportunity to participate in an internship at the bank to monitor and further develop the products that will be developed based on their ideas. Sparkasse intends to launch the final product in 2020.
The other three finalist teams were also awarded prizes. The contestants were Lucia Anastasi, Giovanni Siracusa, Antonio Falco, Davide Teodor Tamas, Federico Odorizzi, and Pasquale Alan Cesaro, with one international team comprised from students from the Netherlands, United States, and Russia – Rik Tensen, Victoria Laine Shaw, Ekaterina Chaltseva.
"To innovate means to have the courage question oneself and to open up to discussion with young people and allow them to share their world view", confirms Nicola Calabrò, CEO and General Manager of Sparkasse Südtirol. He also added: "S-Competition was a way to communicate and allow young people to tell us how we need to change. Listening to young people is the only way to facilitate this transformation, this is one of the reasons why we created LDV20 a few months ago. It is an innovation facilitator that is removed from the bank allowing it to create a bridge with young people and get input from them. S-Competition is a perfect example of how we intend to achieve this understanding which is a priority for us."
"The initiative stems from an internal need to renew our offer of Young banking products." – explains Stefano Borgognoni, Head of Business Development Management at Sparkasse Südtirol. "We have chosen a disruptive approach, asking for ideas from those who will use the products. For Sparkasse, S-Competition is an opportunity to talk with millennials, work with them and get to know them. It is also a way to get in touch with young talent so that maybe in the future we could invite to work with us ".
back to the list