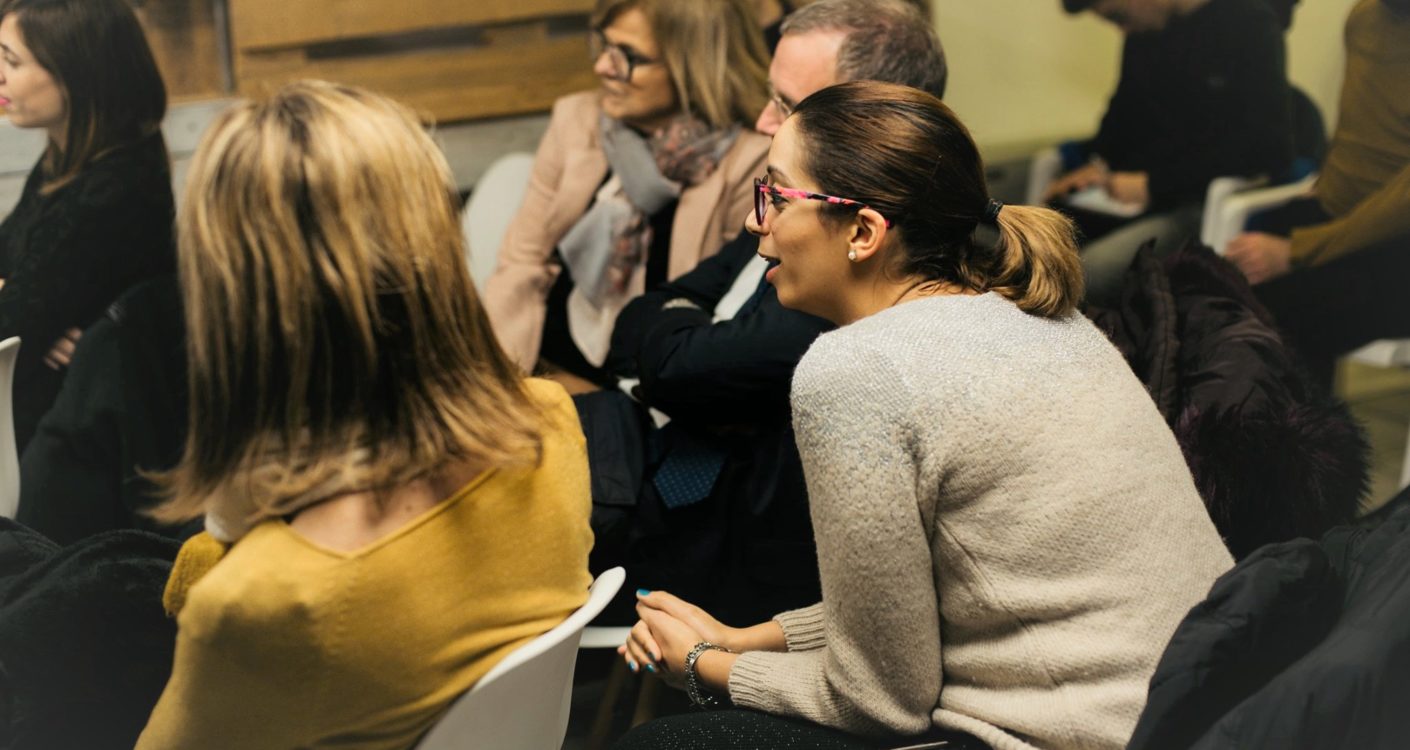 As the saying goes, "Even a broken clock is right twice a day." The same way a grandmother's dress can be fashionable again and a scrap piece of fabric can have a second life as a bag. This is what Francesca Tonelli and Martino Orler, the two guests of the penultimate event "Old but Trendy", part of the Ritorno al Futuro cycle of events, have done.
Fashion is often considered a spinning wheel, with styles returning throughout time. Be it the hoop skirts from the fifties, or the Italian lamps from the sixties that became world-known, to the bell-bottom jeans of the seventies, and so on. Francesca Tonelli, together with her husband Raffaello Bolognesi, founded the Vintag start-up in Bologna in 2016: it is the first all-Italian online social shopping app dedicated to the sale and purchase of vintage clothing and gifts. The idea to pursue vintage came from a chance event thanks to which Francesca had found her grandmother's chest with "Sunday clothes" and accessories in excellent condition. She discovered that there was no online platform on the market that would allow the purchase and sale of vintage goods.
Always passionate about fashion, Francesca says that her educational experience was quite different and that only after her law degree, did she manage to reach her true goal. Francesca was also motivated to start Vintag due to her husband's illness: "Unfortunately, one day my husband got sick with cancer and I decided to leave my job to stay with him. We promised ourselves that once we had cured the disease we would find an activity together, combining my passions with his skills". That promise came true and, after her husband's recovery, they manage to start their project that today boasts more than 39,000 users with more than 2,000 sales behind it. All this without resorting to marketing, they've successfully become known worldwide through word of mouth.
In Vintag you can find over 110'000 items, not only clothing and accessories but also design objects, cars, vinyl, stamps, vintage bicycles, in short everything that is at least twenty years old and certified. For this reason, the App attracts different target customers from all over the world: from Millenials that are fascinated by a past that they have never known and attentive to sustainability issues, or the over-50s, willing to spend more to find items that allow them to revisit the memories of the past.
The Vintag app is a wonderful example of female entrepreneurship and a 360'° green startup sporting a zero-emissions green data center.
Redo – the brand that gives a second chance.
Martino Orler is the manager of Redo Upcycling, founded in Trento in 2014 within the social cooperative A.l.p.i.
The objective of this brand is to improve a sustainable production process, through the creation of accessories using recycled materials that are sold or donated by companies, organizations, associations or people who share the idea of a circular economy. Most of the recovered materials are fabrics, such as car covers or advertising banners, eco-leather, upholstery, and clothes. These scraps are used to make bags, backpacks, wallets and other fashion accessories.
Redo's mission is not only to give a second chance to a discarded fabric but also to give it to the people who collaborate within the startup. "There are those who have had various misfortunes throughout their lives, such as political refugees, former prisoners, victims of violence, social and psychological distress. This work gives them the possibility of recovery, finding their path again, in hopes that it will lead them to a new destination. When some of our assistants tell us that they have found a new job, at first we feel bad but then we understand that Redo has succeded, this person is well and is now able to do it on their own," says enthusiastically the manager from Trentino.
Redo's dual role has quickly found its way into the market. There are about twenty-five shops in Italy that sell Redo items, from Cefalù to the island of Elba. The products are always in great demand even beyond Italian borders, a growing demand also comes from Finland. The Redo project has managed to make its way without marketing similarly to Vintag. "In January a shop in Barcelona will sell our products, the owner is a Bozner who moved there, and discovered our products from visiting friends that told him about Redo," says Martino.
Redo's target audience varies a lot, with customers ranging from fifteen to seventy years thanks to the fact that their products are versatile and unique.
The topic of environmental and social sustainability has been making itself known in recent years: "The Nordic countries are perhaps the most attentive, it is no coincidence that the requests for our products have reached Scandinavia and it is no coincidence that Redo sells a lot from Trento. We as Italians on the peninsula are also beginning to feel the urgent responsibility to do something about sustainability, and it is not a passing feeling by chance," says Martino, concluding this fifth event of Ritorno al Futuro.
back to the list